Attract Visitors with Content Marketing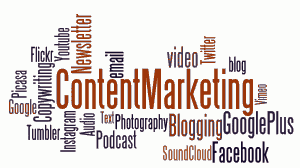 Content Marketing: Are You on Board?
Did you know that more than 70 percent of consumers prefer getting to know a company via content marketing rather than ads? Still companies spend more on advertising than on content creation, according to ContentPlus. So is this a matter of really trusting the content marketing model, or more a reflection of the need to generate traffic and leads more rapidly? The answer: probably some of both. Content marketing is without question the best vehicle for developing your authority and brand. The thing is it can be a lot of work. Plus, it can take much longer to find out whether your content is delivering in terms of leads and sales, in contrast to advertising traffic.
Content marketing is an important part of the success of your business!
While it can be difficult and time-consuming, if you wish to develop your brand into a long-term success, you need to sell out to making content marketing an integral piece of your online marketing. But how do you make it work for you? With all the new content arriving every day, exactly what can you do to make yours stick out from the pack?
5 Ways to make your content marketing rock!
Write what your audience wants to read – Ask or otherwise obtain clues as to what your site visitors wish to read, and supply this. Checking out your Google Analytics for your best performing pages can be a help in this.
Write substance – Longer, more purposeful content is what Search engines love, and ultimately this type of content is shared a great deal more often.
Answer questions – One of the better ways to endear yourself to readers, is to answer their concerns and questions. See how one pool company did it.
Use Google authorship – Not only does this help in the search results, it can improve your authority in Google.
Encourage and promote sharing – Sharing brings links and traffic. Have you already got enough off those? Not to mention that social signals surrounding your content are now a part of Google's search ranking algorithm.
Get your content marketing helping you now so don't have to buy that traffic later.
Trackback from your site.