How Attract New Customers to Your Business Now!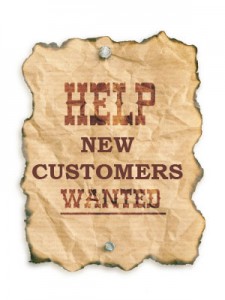 Do you have a business that was once growing but seems to be at a standstill now? If so, how can you keep the business going with new customers? Here are some ways to help you attract new customers right now.
Customers are the backbone of a business. They are the ones who search and find you and eventually convert from viewers to buyers. But, it takes a constant infusion of new customers to keep the business growing.
How To Find New Customers
Here are some tips to help you begin to make a change right now, today, that will benefit your business.
Re-evaluate your marketing plan – Every few years it is necessary to take a look at your marketing plan with new eyes. For online businesses, you may want to re-evaluate each year. What are you doing now? How can you revamp those marketing tools and employ some new ones?
Become a social networker – Twitter and Facebook are becoming valuable tools for those who want to take their business to the next level. Use your account in two ways. If you don't have an account with either or both, now is the perfect time to get involved.
Advertise your business on your personal Facebook page – Post links to new content on your website and other promotional links that friends and family can view and share. Also, create a fan page for your business. Encourage current clients to sign up and tune in for special information or offers that they won't find anywhere else.

Use offline tools – Whether you are operating an online or offline business, doesn't mean that your local market won't also benefit. In fact, with local clients, you can give them a personal touch that online clients may not be able to take advantage of.  Some offline tools include direct marketing, flyers and promotional items.

Video marketing – People love to watch informative videos online. You can take what you know and turn it into a visual presentation that immediately gives new clients a picture of who you are and what you do.

Create a press release – Are you about to offer a new service or product? Create a press release that will attract new clients to your business. Use a press release service and be sure that your content is SEO optimized.  In fact, you can create a press release and in minutes you can have it appear on the number one page of Google. Talk about instantly driving traffic to your business!

Create links throughout your website – There are always links on the first page because that is the one that every visitor is introduced to first. But, other pages are visited as well. Most people won't navigate their way back to the homepage to click on a link they saw there. You can increase your client base by making it easier for them to take advantage of your offers.
What do you think of these tips and what other ideas do you have to bring new customers for your business?
Trackback from your site.