Is Your Small Business Mobile?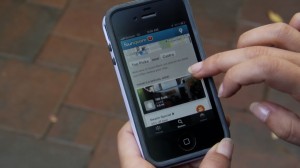 Is Your Small Business a Candidate for the New Foursquare Ads?
Mashable is confirming that location based social networking company Foursquare is now testing a new advertising platform geared towards small business, by permitting large advertisers like Burger King, Gap and Starwood Hotels to test promote themselves on the platform. These listings show up in Foursquare when a customer gets close to a business' geographic location. Small businesses already had the capability to offer discounts when a user checked in to a location, but this time Foursquare is providing them with a way to attract geographically close customers by showing an image ad and/or review by a previous Foursquare user.
What's in it for Foursquare?
Foursquare is a location-based social networking site for mobile devices, such as smartphones. Its users "check in" wherever they happen to be using a mobile website, with a text message or a device-specific app. Foursquare locates them from the GPS in their mobile device. While Foursquare has so far been a way for consumers to share their hangouts, favorite places and eateries, now they are allowing these places the opportunity to promote themselves directly to consumers. Foursquare, while seemingly successful with over 25 million registered users, they've been singularly unspectacular when it comes to earning money. They made a modest $2 million last year, according to The Wall Street Journal, and are looking for ways to increase the revenue.
How the new ads work
The way this works is the ad platform targets Foursquare users determined by their locations and check-in histories. Merchants will and do have a chance to target nearby consumers with particular tastes – a predilection for fine dining, for instance, or customers who had previously checked-in to their store. Merchants in this program have the capability to turn off and on their Foursquare promotions any time they want, and are charged similar to a pay per click model, that is, they are going to be charged only on a "per action" basis (when a user actually taps on a promoted listing rather than merely viewing it). So far, Foursquare is charging $0.50 to $3 per action, but that is subject to change when it is released to the masses. Foursquare CRO Steven Rosenblatt said, "Small businesses are willing to pay for local advertising if it makes sense."
Trackback from your site.