Link Building Evolved – Best Practices for 2014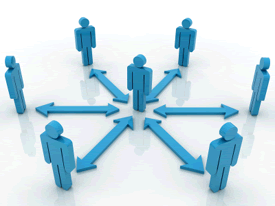 How to Think About Links in 2014
While plenty of people in the post-Penguin Google reality would have you believe that link building as a form of helping you rank better in the search engines is dead, we beg to differ.
Not so fast, as stated by Google's own Liege of link building Matt Cutts states: "Links are still the best way that we've found to discover (how relevant or important somebody is) and maybe, over time, social or authorship or other types of markup will give us a lot more information about that."
Now that we have that cleared up, let's look at some of the best practices for link building in 2014 and likely beyond.
Internal linking on your site – Internal linking means the links you have on your own pages that (hopefully) lad to more relevant content on your site. Google views this as a help to your visitors, and as long as you don't overuse the linkage with tons of excess keyword links, such as extra menus and tag clouds and stuff like that, you'll have some love too. Link from textual content to other textual content, and use anchor text that is prudent.
Google+ shares – It may not be Facebook yet, but Google+ can get your pages indexed rapidly, and this definitely benefits you in your search rankings.
Guest blogging – Having your posts featured on popular blogs has long been a way to garner links, but have you considered being the blog that accepts the guest posts? This can also help collect links, in addition to helping you build authority and content.
Curate popular content on your own site – Every now and then we find a post or piece of content that has gone viral in our market and is of interest to your readers too. Curate this onto your own blog, giving attribution of course, and encourage your own readers to share it with their social circles, thus sending them to your pages!
Relevance and diversity – Google is all about relevance now, and so the days of getting a ton of links irrelevant to your niche and having that actually work are over. Obtain relevant links, and make sure to vary the anchor text coming into your site, if you've got any control over it.
Trackback from your site.